Recently I had an interesting exchange with an online store. It was about the deviation of his Google Analytics reports with the numbers delivered through his marketing channels. In his case, this involved PSMs (price-comparisons), his social channels (Facebook, Instagram) and his affiliate program. Due to the breadth of marketing channels in which the problem occurred, I became curious. So I asked him if he also got some payment service providers such as Paypal, Sofortüberweisung etc. in his Google Analytics reports. When he said yes, I knew immediately where the problem lies.
Update (01.11.2019): The article was updated after a hint from Markus Baersch.
It is a well-known problem that first appeared in 2014 and has already been published in numerous blogs such as here, here and here has been described in detail. The basic problem is an incorrect attribution of the purchase by overwriting the source in Google Analytics as soon as a customer starts payment processing via an external payment service provider.
Recognize the problem
To find out if you are also affected by the problem can just have to visit "Acquisition > All Traffic > Referrals" in your Google Analytics account and check if see any of the payment service providers you are using (e.g. paypal).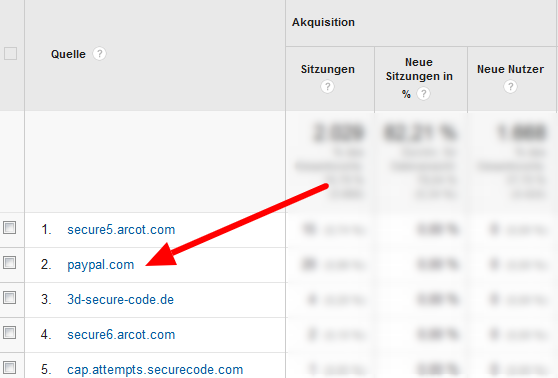 Reason
To understand why this happens, you have to understand how Google Analytics (GA) handles user sessions. From GA's point of view, a session is a time-limited visit (usually 30 minutes) that begins with a user's visit to a page and ends with leaving (or timeout). At the beginning, GA determines who, when, how, where and most importantly from where somebody came to you side. All this information is captured and stored in the session cookie.
An example: If a user on everysize.com clicks on the "To Shop" button and is redirected to the selected product in the partner shop, the session of the user in the shop begins for GA and "everysize.com" is noted as a referral. GA now evaluates each user's interaction with the referral "everysize.com". At some point, the customer places a product in the shopping cart, starts the ordering process and then arrives at the payment methods. Here he then chooses e.g. Paypal.
Now it is getting exciting: As soon as the process "payment by Paypal" is started, the customer leaves the side of the merchant and is redirected to "paypal.com" where he settles the payment. After completion of the payment, he will then be returned by Paypal to the dealer who will then display the order confirmation or the final order.
For Google Analytics, however, leaving the merchant website was the end of the session and the "resending" from Paypal to the merchant thus triggered a new session with the referral "paypal.com"! Ergo, the everysize.com channel has only been assigned the Acquisition and Behavior values (e.g. sessions) but not the conversion! Instead, an additional source for "paypal.com" was generated and then the conversion was counted.
Consequences
The result is that your marketing channels are under-analyzed, if not completely wrong, when analyzed via Google Analytics. Conversions are mistakenly assigned to payment service providers which are normally no traffic sources are but should only process the payment. So if you are affected from this problem and relies solely on your GA numbers you will get wrong results about the performance of the various marketing channels and, in the worst case, makes wrong decisions for example if you need to decide which channel you should scale.
Affected referrals
The problem basically occurs in all external service providers where the customer temporarily leaves the shop during the ordering process, including, for example:
Paypal
amazon Pay
Sofortüberweisung
Mastercard Secure
Verified by Visa
Giropay
Solution
Fortunately, the problem is easy to solve. You just have to tell Google which domains should NOT be listed as referals. GA will automatically ignore these domains and stop interrupting the session. This setting occurs in the Google Analytics account under "Administration > Property > Tracking Info > Referral Exclusion List".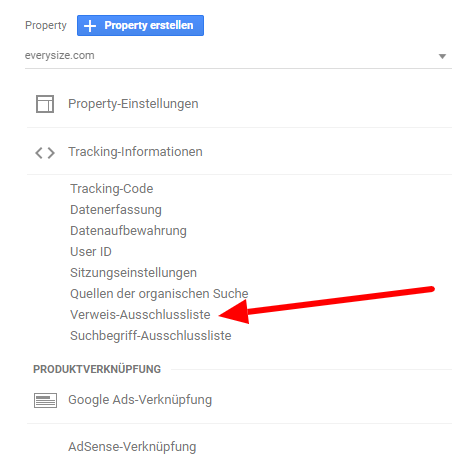 Here you can then enter each domain to be ignored, such as "paypal.com", "sofort.com", "amazon.de" …
Update (01.11.2019):
Markus Baersch from analytrix.de made me aware of the blog-post "#GTMTips: Referral Exclusion On Receipt Page" which describes how to exclude all external referrals at once. Very helpful – have a look! Thanks a lot to Markus!
Tips & Tricks
With Giropay, the domain to use depends on the bank. It may be necessary to deposit more than one domain. Examples: giropay.berliner-sparkasse.de, giropay.sparkasse-frankfurt.de, giropay.finanzportal.fiducia.de etc.


In the blog post "Universal Analytics – the problem with the (payment) referrals" (DE) on sunlab.de I discovered that there is also a UTM parameter that you can attached to the "Return URL" of the payment service provider. With "& utm_nooverride = 1" you can tell GA that the originally set referrer should not be overwritten. However, it is questionable whether this parameter is officially supported or deprecated, see this comment (DE).


The "Referral exclusion list" option in Google Analytics works only with the "Google Universal Analytics" tag introduced in 2015. This can be recognized by the fact that the GA-Javascript "analytics.js" or "gtag.js" is used. With the old version (ga.js) the settings does not work! Here the referrers must be PROBABLY excluded via _addIgnoredRef directly in the JavaScript code (ATTENTION NOT TESTED!). Google points out both in the Help section, as well as directly in the "reference exclusion list":
I know this problem is nothing new, but it is important to keep reminding yourself! Google Analytics is an extremely powerful but also extensive tool that belongs correctly configured. With a wrong configuration otherwise wrong decisions can be made quickly. I hope I was able to help one or the other with this post and am pleased about feedback.
Update (08.12.2020):
By the way, the same problem does not only exist with payment solutions, but also with social logins such as Facebook, Google or even Apple login! See "Excluding Facebook and Google social sign-in from your referrals with Google Analytics"